Leanne
Senior stylist and creative hair director. I am salon manager and in house trainer with a passion to learn more and constantly share my knowledge to the up and coming super stars !! award winning stylist 2017 & made Revlon visionaries 2019 Getting to work along side the amazing Mark Leeson and learn some tricks of the trade . Wedding and up styling specialist and a drive to create fashion colours. Always want a challenge and something to work towards like competitions I think off the as a way to grow and learn.

Catriona
Senior stylist and salon manager I have over 23 years' experience , Bringing old school to new. Always keeping my self-trained with upskilling been – Practical or Theory , I am currently sitting my masters at the moment . I love a colour change nothing like a hair challenge, but my overall favourite is to work with blonde( hilites & balayage ) and making my clients feel amazing . Extensions specialist bonds or beads . I love nothing like a good modern blow dry been straight , curly blow , or a boho. My Favourite products to use are Olapex and unique one as they are my favourite hair protectors .

Jennifer
Senior Stylist and Creative hair , Hairdressing over 24 years from colour to up styling and cutting I love every aspect of hair, with so much experience between a older clientele to younger. I love to constantly keep on top of trends and to learn new techniques u can never know enough. Wedding hair specialist and extensions . Products are what makes a finished look some off my favourites are Olaplex and Joico beach shake.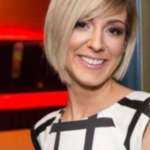 Michelle
Senior Stylist started my career at Kolours and Kuts 12 years ago and continued to grow with the KK family ( nanny of the fam ) I love colour and working with blondes and making the blondeful. Cutting is a passion of mine bobs, lobs and short hair I love the end finish.

Jennie
Senior stylist and precision cutter. I love to keep on top of latest fashion and love to create modern looks .My favourite colours at the moment are blondes and tonal brunettes . Balayage or flowy hair I got you !! Products are a big must such as olaplex I can't voice to my client enough condition is a first before you have your desired hair.
Amy
Senior stylist hairdressing from such a young age , passion for colour and bluntly honest with her clients . she under promises and overachieves . Amy is our floor counsellor to not only staff but to her clients she has such a giving heart which she will pour into you hair . Finishing touch is everything with over perfection to colour and cut you won't leave unimpressed .
Megan
Stylist megan has a passion for colour perfecting the latest trends within the salon. Bubbly enthusiastic and always looking to advance and push her self to learn all aspects of hairdressing from balayage to hi lites boho to bouncy blow dry megan has u covered .

Kaylah
Our very own style queen!! Kaylah has magic hands when it comes to styling hair , from unique style curls to plaits and upstlye she is your go to girl loves anything creative and is always up killing herself both in salon and outside. Tweaking her precision cuts and colour theory she is one to watch.

Bronagh
stylist started her career in kk she is or home-grown stylist absorbing as much knowledge as she can to perfect her skill along the way .Bronagh loves colour , Hilites and balayage been her favourite.

Josclyn
Junior stylist loves helping with all aspects of colour and styling . Jos is our newest addition to the family she is a quick learner and constantly perfecting each skill she is thought until she has it to a tea!! You will always be greeted with a smile and a chat and the most amazing head massage if you are lucky enough to get her at the basin.